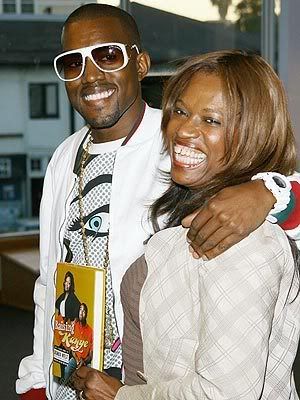 The funeral for Donda West was held today in Spencer, Okla., drawing her tearful son Kanye and music stars Jay-Z and Beyonce, while Common and Anita Baker sung.
Kanye West broke down while talking about his mother, whose champagne-colored coffin arrived at the True Vine Ministries church in a white hearse. He said he wanted her to not "rest in peace, but rest in paradise," according to Entertainment Tonight.
Some people are wondering why Kanye has continued to tour and he responded, "There's nothing that she loved more than to come to the shows and scream louder than any fan, because she was my first fan that was screaming before anybody else. My first manager. If she was here, she would tell me to 'Get on that stage and kill it, dawg.' That was her favorite word, dawg. She would tell me to go on this 'Glow in the Dark' tour and take over the world and 'be No. 1 like how I taught you to be, baby.' "
Via People Magazine
You can watch some of the funeral coverage on
CNN
and also on
TMZ