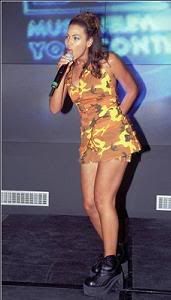 Pic: Beyonceworld.net
Guess who is coming to a screen near you? Beyonce, Adrian Brody, Cedric the Entertainer, and Columbus short. Beyonce will executive produce (see definition) the movie, star as Etta James and record FOUR songs for the soundtrack. Of course garnering nominations for Grammy's and Oscars. She will donate a portion of her fees for the film to recovering addicts through her family's charity, the Survivor Foundation.
Its a 1950s period film about Chess Records a Chicago based company; its founder and the turbulent lives of the label's legends like Chuck Berry.
An executive producer of a motion picture is typically a producer who is sometimes involved in creative or technical aspects of production... executive producers act as representatives of the studio (which distributes and/or makes a film) or the production company (which makes a film), sometimes being CREDITED as executive in charge of production....even if there was no direct input into the creative process of the film itself.