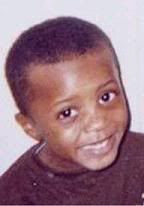 Demond Reed's father Tony Reed, 21, brought his son to Minneapolis from Chicago around Christmas to visit relatives and was arrested on drug charges in January. Tony's cousin, Carla Poole took custody of Desmond and is charged in beating him to death in early February.
Carla Poole gave Demond a spanking after he soiled his pants. He then had a seizure and began to vomit. Poole tried to resuscitate after he stopped breathing. "The next morning, Demond was 'frozen' and not breathing," the complaint states. "The defendant placed a gray blanket
over Demond and left him lying on a bed for approximately two days."
Poole later moved Demond's body to the closet and was found in a canvas bag, enclosed in a black garbage bag.
Autopsy determined Demond had bruising on his head, puncture wounds on his stomach, back and buttocks, a bite mark on his stomach and a large hematoma on his left eye. One injury indicated a blunt object had been forced into his mouth, and there was bleeding inside his brain.

Why didn't they call his mother to come and get him after his father's arrest? Why would you leave your four-year-old son with his father for such a long period of time? As a mother don't you wonder what is going on with your child who is hundreds of miles away? Why aren't parents being careful and cautious of whom they let watch their children. It seems that people just 'loan' their children out to relatives, baby daddies, friends etc. "They will be fine." They won't. Lots of molestation and abuse of children happen within families. I also think of Poole's children who will deal with the emotional trauma by seeing their relative lying dead on a bed for two days.
--------------------------
Johanna Vera went to Walgreen's and purchased products to make a concoction of juice, rat poison, boric acid, Tylenol, ibuprofen and cough medicine. She ingested the concoction and fed it to her 10-month-old and 3-year-old children.
Two weeks before she had broken up with her boyfriend. After drugging herself and the children she called the ex and another person to tell them what she had done. The ex came to the home and called the police. All three were taken to the hospital and treated.
So let me guess: she thought by poisoning herself and the kids he would feel sorry and take her back? Why harm the children? Just mess with yourself. The exploits and risks that
women are taking for men are appalling. Wake up people, its not that serious.