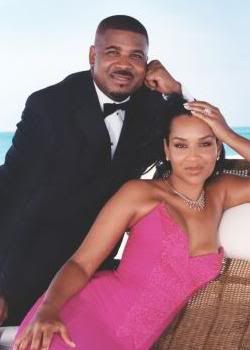 Chief Minister of the Turks & Caicos Islands, Dr Michael Misick has been accused of rape by a friend of Lisa Raye's. According to an article
Premier Misick committed this alleged rape over a week ago at the Providenciales
mansion he shares with his American (actress) wife, First Lady Lisa Raye. The
accuser is said to be an American friend of Lisa Raye. After allegedly being
raped, she reported the crime to the TCI police. And, shortly thereafter, she
returned to her home in the United States and reported it to the FBI...
Misick also made a statement:
My fellow Turks and Caicos Islanders, a few days ago, an American female,
after leaving the Turks and Caicos Islands, made a false report to law
enforcement officials in the United States that she had allegedly been sexually
assaulted by me. I strongly and categorically deny these false allegations…. I
am confident that I will be completely and fully exonerated of these false and
outrageous allegations. Let me be clear, I will continue my duties as Premier.

The article also implies that island money has been squandered with ads featuring Lisa Raye and Misick is corrupt himself. Shame. Read the
whole article