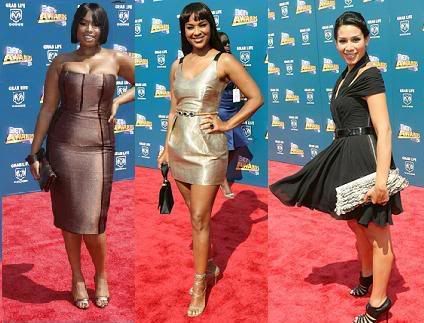 I know you guys have seen the pictures and videos of the BET Awards.
Above are three Windy City ladies: J Hud, Lisa Raye, and Kid Sister.
I have received many emails on why I didn't post but I must say that I was super disappointed with the awards. It was huge disappointment from the fashion choices to the performances.
A loyal reader Kia said,
"It's not the fact that we are getting older and not interested in the awards
its that the artist are not taking the time out to fully immerse themselves into
groundbreaking and entertaining performances."
Took the words right out of my mouth. BUT here is Mrs Windy City's breakdown ( three days late but $5 dollars true)
Youtube it:

Ne-Yo:
best performance of the night. He stole the show. Sounded great and did an amazing job
Chris Brown and Ciara:
The dance sequence was another highlight of the night
Al Green:
the tribute was amazing and his performance was unforgettable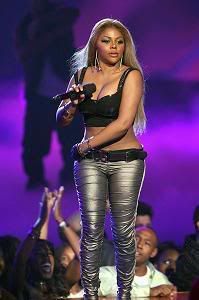 Laugh at it:
Usher
and his repeat Saturday Night Live performance. Bad lipsyncing and we can't blame Maneka on this one….
He's getting older, let Chris Brown run it boo

Neffie and Frankie
(Keyshia's sis and mom): what in the prom dress hell did they have on?
Cleopatra wigs
: apparently the
Queen of the Nile came back full force
and lended her wigs to Alicia Keys AND Ciara
Keyshia
swagger jacking Mary J Blige from the white outfit to her dancing
Lil Kim
(performance with Keyshia): What in the wanna be Barbie Doll hell was that crap?