**** This is a weekly poll that I ask you, to vote for the person who should get off their platform. So tell me who should we tell, "Booooo get off the stage!"
1) Beyonce:
she is now hawking Direct TV! From cell phones (which she claims he doesn't use), American Express, House of Dereon/ Deron lines, cosmetic/perfume endorsements ----- and don't forget her special screening of Beyonce Live DVD in select theaters! She's everywhere but her fans and the public wants her to sit down for at least 6 months and believe me, we will still remember you!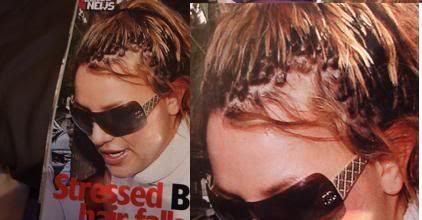 2) Britney:
Oh my. Girl let it go and let your natural hair (bald or faded) show.
Speaking of Britney, Lil Kim is featured on a remix of "Gimme More." Listen/download
HERE
3) Keyshia Cole:
This video says it all