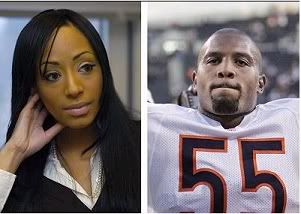 Brittini Tribbett has a 3-month-old baby with Bears' football player Lance Briggs. Briggs won't visit the baby consistently and only gives about $250 a week for support. They are now involved in a legal battle. A college student, Tribbett and Briggs planned of having a solid family unit but she learned of two other women that claim to be pregnant by Briggs.
"I have had an open-door policy toward parenting," she said. "Lance has apparently had an open-pants policy toward paternity."
As of October he was providing a north suburban condo for her to live in with a car and credit cards for expenses. Now she is living with the baby at her mother's home. Tribbett has to ask family for help
with diapers, unpaid medical bills and other bills.
Briggs lawyer states that he has made settlement offers but there is desire for "mother support." Tribbett's lawyer states, " He has offered, in the future, to provide "less than 10 percent of what he
earns in one game. We'd expect him to pay a reasonable sum to provide the child with a lifestyle commensurate with the father's earnings, as provided by law."
He did give back the car and came for a visit this weekend after hearing of the story being published in the Chicago Sun-Times.
All images and facts via Chicago Sun-Times