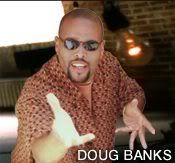 Doug Banks will be returning to radio in Chicago on V103 (102.7) on
Monday, from 2 to 6 p.m. weekdays. His co-host will be DeDe McGuire.
He will remain to host the show from Dallas with a special airing in
Chicago with Luv and Soto from 2 to 7 p.m. today.