Katie Holmes Cruise (Tom's wife) attended the movie premiere of Mad Money (co-stars Queen Latifah). This dress is simple, sophisticated and chic.
Katie has come a long way. Best dressed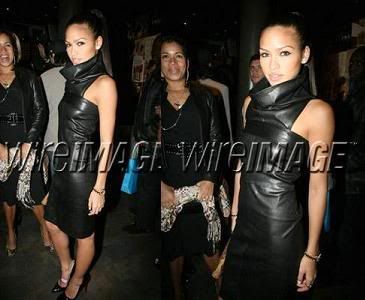 Cassie and others attended DJ Clue's Birthday Party and I must say… stunning. Cassie has recently veered toward leather when she hits the town.

Make-up: check
Dress: check
Cassie: Hotness

Jaslene also attended… I like her clothing choice. The make-up not so much
Mychael Knight (runner up- Project Runway) hosted The Kitty & Dick
Suite. In the beginning I heard that the Kitty & Dick line focused on lingerie with a group of girls that go by the moniker Kitty Litter to help promote it. From the pics it looks like the line will include clothing also.
So what are you feeling?