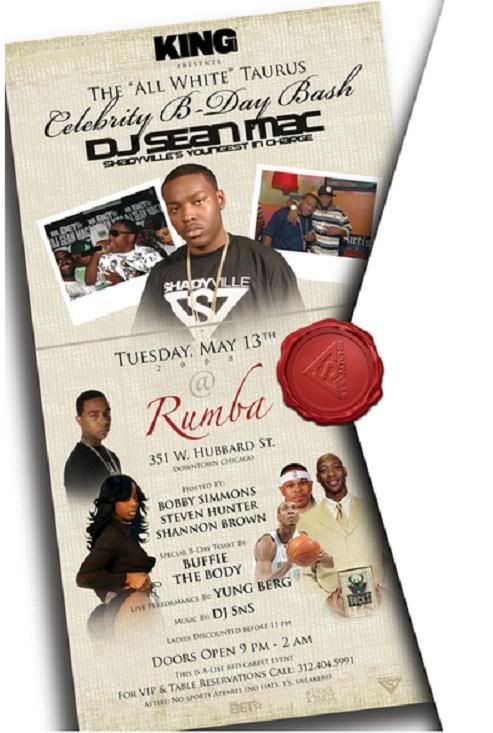 DJ Sean Mac "All White" Party
Save the date!!!! 05.03.08
NBA Players Bobby Simmons of the Milwaukee Bucks, Steven Hunter of the Denver Nuggets, and Luther Head of the Houston Rockets, along with
Epic/Koch recording Artist Yung Berg, and music video model Buffie the Body will host DJ Sean Mac's King Magazine sponsored
26th Birthday Party – an "All-White" apparel affair; DJ SnS from New York will provide the night's music.
Expected company of a who's who of Chicago's Urban Entertainment Industry.
In past years, DJ Sean Mac's parties have boasted the attendance of celebrities such as
Twista, Paul Wall, Eddy Curry, Shawnna, 50 Cent, DJ Whoo Kidd, Fat Joe, Bump J, Busta Rhymes, Tony Yayo, Avant, Juelz Santana & More.
DJ Sean Mac's imprint, Shadyville DJs employs a 20 member street team and has release over 100 mixtapes with over 50,000 units sold locally.
At 26 years old, DJ Sean Mac is the among the MidWest's youngest and most accomplished Disk Jockies.

Shout out to Rebecca O'Neal!!!! Do u!!!