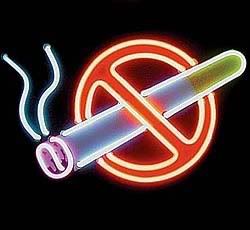 New Years is approaching which means a new start and new resolutions, (hopefully) letting go of what was bad for you, etc. But the 2008 year will also signify the no smoking ban everywhere in Illinois including Chicago. I am elated because no longer will my clothes and hair smell just because I want to dance. Some clubs have taken steps for smokers in their clubs
Sound-Bar
Will have a heated sidewalk smoking section. You will have to get a wrist ban to re-enter the club
NV Penthouse Lounge
The eighth floor terrace is a heated, 50 person space that is partially covered by a concrete awning.
Stone Lotus
The ban has inspired them to remodel with brand new furniture and carpet. Camel cigarettes are sponsoring outdoor heating lamps for smokers.
You must remember these spaces are not enclosed so you will probably be cold!!!